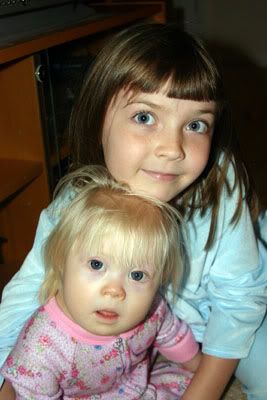 A recent picture of my two beauties.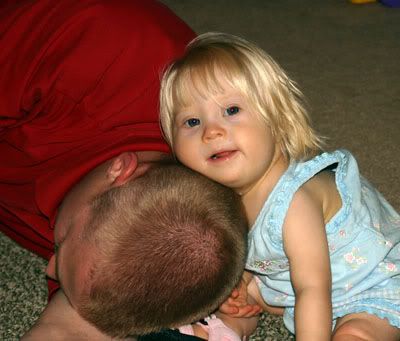 I just thought this was the most adorable pic of Sarah, using Jeff as her own personal pillow. It was apparently "daddy is my jungle gym" night, as she ended up climbing all over him. That'll teach him to be on the floor.

Well things have been going pretty well around here lately. Jeff finished his second summer semester last week. It's been a long 12 weeks of summer school. Glad it's over.
On the work front, Jeff has been made interim manager of Technology Operations. His boss found another job at the University of Wisconsin, and they decided to give Jeff a year of management experience before putting the job up for applicants. But, the only down side is that now he'll have to scale back school to half time, meaning we're going to be here longer. But, that's ok, he couldn't have passed up this opportunity. The funny thing with management is they usually want people with experience, but you can only get that experience by BEING a manager. It's a vicious cycle.
Jeff's sister Kimberly was here visiting over the weekend. She flew out from San Francisco. It was a really nice visit. Emma ran her ragged (but it's ok, cause she works at a preschool) and Sarah loved having another person to charm the pants off of. It was probably the MOST relaxing weekend we've had around here all summer.
My mom is coming out this weekend, and will be here for 8 days. She'll get to go to Emma's Open House with us, and meet her teacher and see where she'll be going to Kindergarden, in a week and a half!!! AHHHHHH! That just doesn't seem possible. Still don't have a school supply list, and it's starting to worry me a little. I suppose I could just go with my gut instinct and get the generic crayons, pencils, erasers, pencil case, etc. But after talking to my friend Jennifer in FL last week, whose daughter started K this past week, I'm wondering if they won't be requiring a few things that aren't on the general list. She had to buy shaving cream. And a mini Magna Doodle. And tissues. And while that was in FL, I wouldn't put it past MI to be freaky like that.
We've been trying to implement "school rules" at home to get her used to what it's going to be like once school starts. Like NO TV at bedtime. That's been a hard one. Also, a strict bedtime. Right now it's 9pm, but that may change after school starts, depending on what time she needs to be on the bus.